The University of Prince Edward Island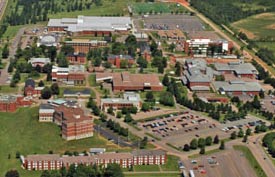 About The University of Prince Edward Island
The University of Prince Edward Island is a university in Charlottetown, Prince Edward Island, Canada. A public liberal arts and science institution, UPEI is committed to encouraging and fostering critical, creative, and independent thinking.
UPEI's 200-member faculty provides a rich blend of academic programs in Arts, Science, Business, Education, Nursing, and Veterinary Medicine to just under 4,000 full- and part-time students. Graduate programs (Veterinary Medicine, Chemistry, Biology, Island Studies, and Education), internship opportunities, and exchange programs are offered in addition to a wide selection of courses coordinated by the Centre for Life-Long Learning and other departments.
Just minutes from sandy beaches and the downtown core of the capital city of Charlottetown, the 130-acre campus features nine academic buildings, three residences including the newest one opened in 2006, a dining hall, library, chaplaincy centre, a new state-of-the-art day care facility, the Chi-Wan Young Canada Games Sports Centre with a new synthetic lighted sportsfield and a 8,400 square-foot Fitness Centre, the W.A. Murphy Student Centre, the renowned Atlantic Veterinary Teaching Hospital, and several research institutes.
Prince Edward Island Universities