The University of Lethbridge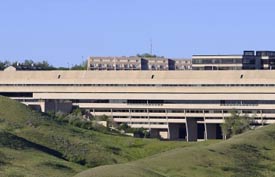 About The University of Lethbridge
The University of Lethbridge (also known as U of L) is a public university in Lethbridge, Alberta, Canada. At the University of Lethbridge, you can choose from more than 150 programs offered in six Faculties and Schools. With more than 8,000 students, the U of L is large enough to ensure that your education is rich with opportunities, yet small enough to remain dedicated to a personal experience.
The University of Lethbridge is a place where you are free to create, inquire and discover as you pursue your goals. It is a place where you learn from world-renowned professors who care about your success. It is a place where small classes are the norm, not the exception, and where you can really get to know your classmates and your instructors. It is a place where you can enhance your education through research and work opportunities, and where art, history and culture are celebrated.
The University of Lethbridge is a place to grow - academically, socially and personally. Each year, you can observe or participate in concerts, drama productions, athletic competitions, debates, cultural awareness events and campus-wide celebrations.