Ontario College of Art and Design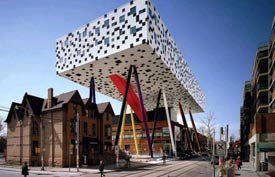 About Ontario College of Art and Design
Ontario College of Art and Design is Canada's largest and oldest university for art and design. It is located in Toronto, Ontario, Canada on McCaul Street beside the Art Gallery of Ontario.
The Ontario College of Art & Design has more depth and breadth in visual arts and design programs than any school of its kind in Canada. OCAD offers its students a unique environment that combines studio-based learning with critical inquiry.
As Canada's university of the imagination, OCAD delivers art and design education in a learning environment that integrates studio-based education with historical, critical and scientific enquiry. OCAD graduates and faculty have made their mark in unexpected ways, contributing to knowledge and invention across a wide range of disciplines.