Northlands College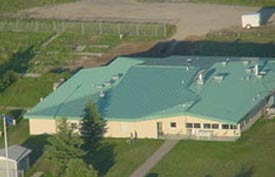 Northlands College
Northlands College provides a full range of programs and services for adult learners throughout the northern half of the province. The Mission of Northlands College is to provide quality education and training programs that will meet the development and employment needs of Northerners, enhance social and economic development, and prepare Northerners to participate in the labour market.
Northlands College is one of eight publicly funded regional colleges in the province of Saskatchewan. We serve the northern half of the province with a population base comprised of 80% First Nations and Metis peoples spread across more than 45 small, remote communities. We are governed by a board of directors, representative of the communities we serve.
In serving the education and training needs of northern Saskatchewan, Northlands College provides a wide array of programs in the areas of basic education, technical and vocational training, and university courses through the three campus centres located in Buffalo Narrows, La Ronge, and Creighton. Programs typically are delivered in partnership with a variety of organizations, agencies, businesses and northern communities.
Saskatchewan Universities