The University of Regina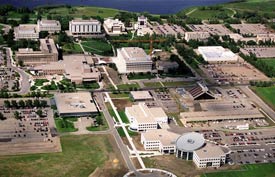 About The University of Regina
The University of Regina is a public university located in Regina, Saskatchewan, Canada. The University encompasses nine faculties, 25 academic departments, and 16 research institutes and centres. Three federated colleges are located on campus: Campion College, First Nations University of Canada and Luther College.
The main campus and historic College Avenue campus provide an attractive study and work environment for more than 12,000 full- and part-time students, 1,400 permanent and term employees and approximately 1,200 casual employees.
Specialized programs are offered in a number of areas including journalism, social work, media production and studies, actuarial science, petroleum engineering, fine arts, software systems, education, police studies, health studies, public policy and administration, and many others.
The University creates capacity for social, cultural and economic development, and has long been recognized as a major player in strengthening and diversifying the local economy.
Living on campus is a perfect way to get the full U of R Student experience. It offers you independence and friendship in a vibrant, multicultural atmosphere. The University of Regina offers four fully-furnished residences to meet the diverse needs of our students. Residence life is a comfortable and convenient "home away from home." The University is also a popular venue for concerts, art, sports, public lectures and theatre, and is a source of invaluable expertise in many areas.
Saskatchewan Universities