The University of Winnipeg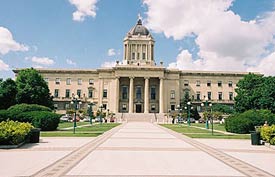 About The University of Winnipeg
The University of Winnipeg is a public university in Winnipeg, Manitoba, Canada that focuses primarily on undergraduate education.
University of Winnipeg student residences consist of nine thoughtfully renovated neighbourhood houses on Balmoral St., Spence St., Furby St., and three floors of Lions Manor. A HomeStay program also places students with suitable Winnipeg host families. The University also operates an Off-Campus Housing Registry annually from May to September.
The University of Winnipeg offers unique research opportunities to undergraduates" many participate directly in research, either on their own or in close collaboration with faculty, a privilege usually reserved for graduate students at larger institutions. Often these students are listed as co-authors on publications and conference presentations. Departments at The University of Winnipeg employ undergraduate students as markers, lab demonstrators, and tutors. Hired routinely to assist professors with research, students gain practical experience, broadening their learning experience immensely.