Canadian Mennonite University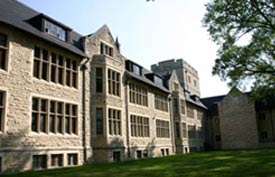 About Canadian Mennonite University
Canadian Mennonite University (CMU) is an accredited Christian university that offers recognized degrees in the arts, music, music therapy, theology and church ministries. Located in Winnipeg, Manitoba, CMU has over 1,600 students at three campuses: The Shaftesbury Campus in southwest Winnipeg; at Menno Simons College, its campus at the University of Winnipeg; and through Outtatown, CMU's eight-month adventure and discipleship program that finds students serving and learning in western Canada, South Africa and Guatemala. .
At CMU we value excellence in teaching, challenging academics, rigorous thinking, strong community life and practical preparation for a career. As a Christian university, we do this within a framework of faith in God, and with the conviction that faith makes a difference in how we understand our world.
At CMU, you can learn and live together with people from across Canada and around the world. You can spend time with people who share a common bond of faith and values. You can meet and learn from people who have completely different points of views than yours.
Life at CMU is about studies. But it's also about living in residence, late-night discussions, socializing, playing together, eating together, worshipping together, serving together, praying together and developing deep and abiding friendships that will last a lifetime. Whether you live on campus, or commute to classes, CMU offers an opportunity to enjoy a vibrant and meaningful community experience, both inside and out of the classroom.